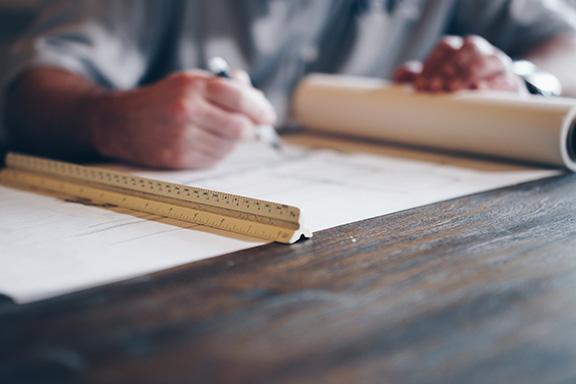 Architects offer a comprehensive service that is broken into several phases. An architect can guide you through the stages of planning, designing, and constructing a project.
With the wrong decision, you risk losing your building's intent and could face design issues once construction begins.
While the process to find an architect can indeed be incredibly time consuming, it's essential to making your project a success. In general, the shared goal of the owner and architect is to make sure that the project meets the design intent as discussed in concept design.
All projects are unique and the process of hiring an architect varies case by case and project by project.
When you do hire an architect, think about the following steps to help find one that fits your needs.
You'll first want to ask questions such as: What are the project objectives? What is the project budget and construction budget? What's the project schedule?
Consider the specifics and complexity of your project and whether it requires general or technical knowledge. This will help you determine which type of firm is best suited to your project.
Reviewing the Qualifications
Does the firm or architect have the necessary certifications? Does their portfolio align with your project's needs?
Are they equipped to handle a project of your size? Have they handled similar sized projects before?
Do they have a positive track record in project's they have serviced?
Ask the right questions to help you determine if the firm in question has enough of the right experience to meet your project goals.
Determining if and what project management services are provided
Architects can offer more services than just designing a building. It'll be useful to know if the architect can:
Determining the project delivery method
Projects may fall into a couple of major delivery methods: Design-Bid-Build or Design-Build. Design-Bid-Build is the most common project delivery method, with the owner hiring separate architects and contractors to complete the project.
The selection process for an architect can be much different depending on the type of delivery method, so you have to know how you'll approach the project before honing in on an architect.
Examining Cost
Cost is always a crucial factor in hiring anyone, but it's also important to note that a lower cost is not always as cost-effective as it seems, while a higher fee does not always provide the quality it appears to.
Instead of thinking solely about the design cost, consider the value you want the firm to bring for the price. It is difficult at the onset of a project to determine the scope and quality of the services that will be required. A fee is best negotiated after determining the required scope of services.
---
First and most importantly, the success of your project is a priority. You should choose a firm who fulfills most if not all of your criteria for success.