Comparing and selecting lease accounting software is not a simple process. You've got to juggle your budget and stakeholders from other departments (who may not understand your needs). And those are just your internal obstacles. You also have to ensure that the software has the functionality that you need to comply with the new lease accounting standards.
Common software comparison mistakes
Let's look at some common misperceptions people have about lease accounting software, so you can know what to watch out for when assessing your options.
Focusing on price alone
One of the common concerns accountants have is that their procurement teams and senior leaders pressure them to select the cheapest option. Some lease accounting software may get high marks for affordability, but if it doesn't have the functionality you need, it's a waste of money, and puts your company's ability to comply at risk.
Another issue with price is that you may encounter some companies that offer their software for free – at first. After 6 months to a year of free service, when you've gone through all the trouble of loading up your leases, they'll notify you that they plan to start charging a hefty fee. At that point, you may be too invested to turn back.
Choosing a lease management software that wasn't meant for accounting
With FASB ASC 842 and IFRS 16 coming into effect, companies have 2 primary needs when it comes to their leases. They need a lease accounting solution to enable compliance with the new standards. And they need a centralized repository where anyone in the company can access documents related to their leases.
There are many lease management tools out there, but not many can accommodate the new standards. When you're comparing your options, examine them closely to identify which ones were made specifically for lease accounting, and which ones were made for lease management and had accounting modules added on. If the accounting functions are an add-on, they may not be complex enough to keep you in compliance.
Choose software that supports your internal controls
The software you choose should ensure that your internal controls are effective. Let's take a closer look at two key things you should look for in terms of internal controls.
Section 404 of the Sarbanes-Oxley Act
Publicly held companies must comply with the Sarbanes-Oxley (SOX) Act, a 2002 regulation that improves the accuracy and reliability of corporate disclosures. Section 404 of the SOX Act requires management and the external auditor to report on the adequacy of a company's internal control on financial reporting. Now that leases are going on your balance sheet, your lease accounting software should have functionality in place that supports your internal controls.
Some examples of internal control functionalities that you should look for are:
Data entry validation protocols that ensure if one person enters or modifies a lease, then someone else should approve those changes
Full audit trails noting who made changes, what they changed, and when – and it should provide this data at the lease level
Role-based access controls that ensure people have access to only the data that they need
Potential software providers should be aware of Section 404 of the SOX Act. They should be prepared to show you how their built-in functionalities reinforce your internal controls.
 
SOC reports
One aspect of software selection that many companies may overlook is asking for the software provider's SOC report. SOC, which stands for system and organization controls, addresses a software company's ability to provide controls that are relevant to your internal controls over financial reporting.
In short, a SOC report ensures that the software is coded and functioning properly so that errors aren't created in the system. The last thing you want is to be following proper protocols on your end, but the software provider does not have controls on their end that can be relied upon.
A SOC report is issued by a 3rd party that must be a CPA. There are 3 different types of SOC reports, with each one focusing on different aspects of a company's controls (e.g., financial and non-financial), as well as different levels of scrutiny from the 3rd party issuer. For lease accounting software, SOC Type 1 and SOC Type 2 reports are most relevant.
When assessing potential software providers, ask for a letter from the firm that performed the SOC report or the report itself. The SOC report should give you peace of mind that the software provider isn't just claiming to support your internal controls, but that they've been independently verified to do so.
SOC and SOX can be easily confused since they both have to do with aspects of control. An easy way to remember the difference is that SOX Section 404-compliant functionalities help you prevent errors. SOC reports outline whether or not a software program is designed and operating effectively to prevent system errors. Both are critical aspects of choosing the right software.
Reviewing lease accounting software
A company's website can only tell you so much. Hearing from your peers can make a world of difference. If you place a lot of emphasis on reading reviews, you're not alone. A recent survey showed that over two-thirds of B2B buyers say reviews are a "very important" consideration in the buying process.
However, before you dive into reviews, you should know that they're not all created equally. By all means, include them in your decision-making process, but beware of potential inaccuracies. Some companies know how important they are, and have found ways to game the system.
A real-world example of lease accounting software reviews
You'll find that some programs have rave reviews from people who really aren't in the weeds of day-to-day lease accounting. Look at how many of LeaseQuery's reviews came from accountants, as opposed to our competitors: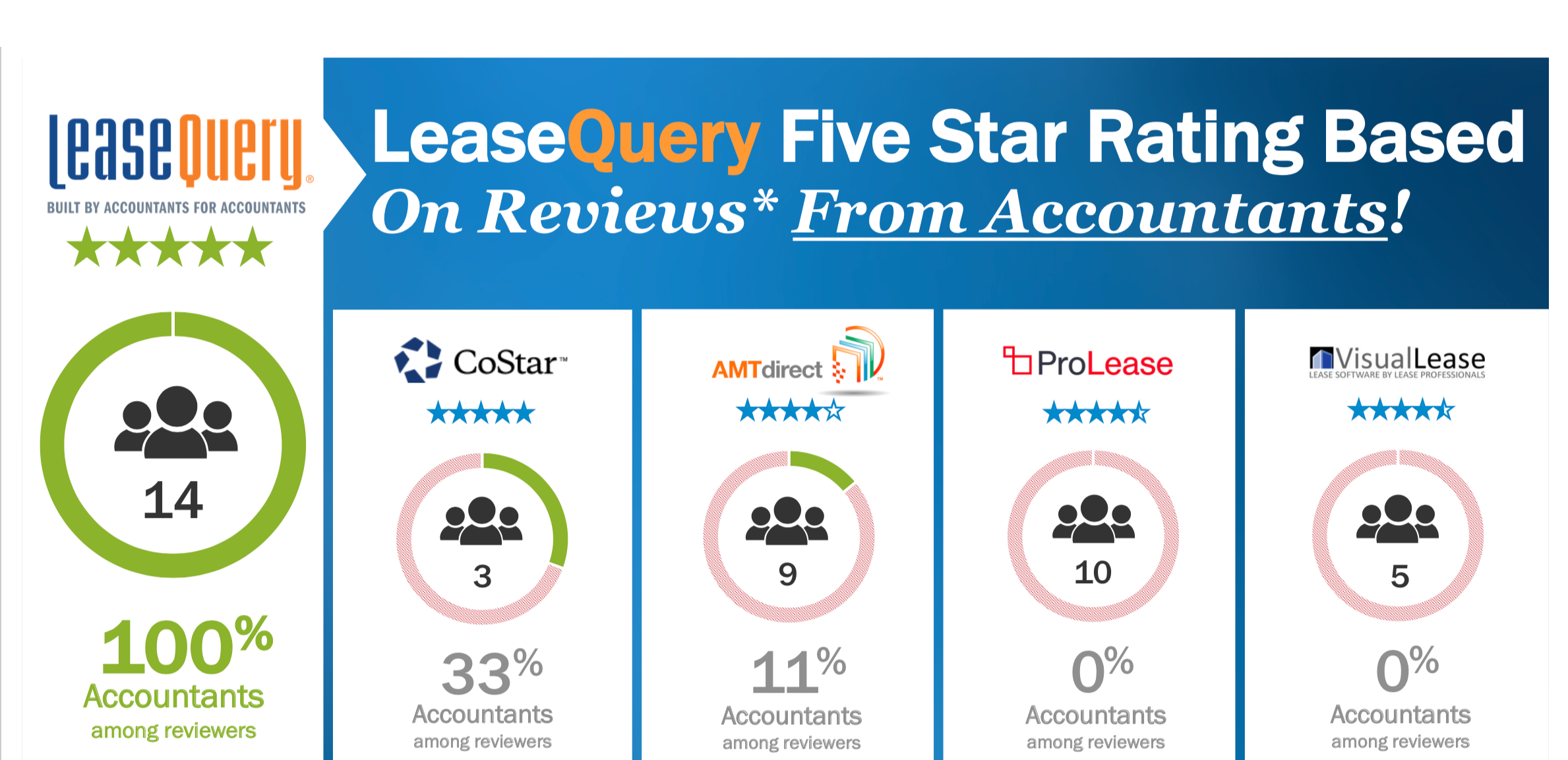 While our competitors received some good reviews, most of them came from people who aren't accountants. People in real estate, legal, and lease administration don't have the same needs as accountants and other financial professionals. So how much weight do their reviews carry?
You want to look for how many of the reviews were made by people who understand lease accounting, and how many reviews came from people who only need a lease management system. Otherwise, you risk the accounting functions not being up to par.
What to do when other stakeholders are swayed by the misleading reviews
Even when you understand the value of using a software that's been reviewed by your peers, your internal stakeholders may not. To get non-accounting parties to understand the issue, they need to understand that accounting is the language of business.
When your company's accounting is in order, facility managers, property administrators, and legal analysts have the luxury of not paying attention to financial statements and audits. But if your company has to restate its financials, their vendors and business partners may lose confidence in your company's ability to pay for their services.
That's why we say accounting is the language of business. Remind your internal stakeholders of how often they are asked for audited financials when entering new business relationships or renewing contracts. All companies want to know they're partnering with other companies that are financially solvent. If your financial statements aren't in order, those relationships may be scaled back or terminated altogether.
Augment reviews with feedback from your peers
Unfortunately, not everyone who uses a lease accounting software is going to review it. Reach out to your peers to find out which solutions they're using. A 1-on-1 conversation allows you to ask them questions that you may not see in a review.
It's up to you to select a software solution that meets the requirements of auditors and regulators. With FASB ASC 842 and IFRS 16 compliance deadlines approaching, many companies are getting into the software business without taking the time to consider all the functionalities that you will need to comply. Having a keen eye for details will ensure that you make the right choice.
The other thing that you can do is ask to see a software solution in action. LeaseQuery offers free consultation with each demo.