Author: Beck Partners This post originally appeared on Beck Blog - Beck Partners and is republished with permission. Find out how to blog with us on theBrokerList.
Shawn Maxey and Thomas McVoy represented a national tenant in the leasing of this 3,100 SF industrial space in Pensacola, Florida. Industrial real estate continues to be a strong asset; if you're considering buying, selling or leasing, contact our team. Their expertise spans from Southern Alabama to South Florida.
All of our industrial real estate listings can be searched HERE.
---
Shawn Maxey began working in commercial real estate in 2016, when he moved to Pensacola, Florida. Before joining Beck Partners, Shawn worked in leasing, property management, and development for a national multifamily property management and development company. Today, he works with national, local, and regional clients in sales and leasing commercial retail properties.
Over the course of his career, Shawn has developed the knowledge and skills needed to assist his clients in their respected real estate goals. He prides himself on cultivating relationships within the industry and leads every conversation with a focus on trust and transparency. Shawn has also developed indisputable credibility by exceeding the expectations of service while working with some of the industry's most active tenants, buyers, sellers, and landlords. All of this and more he brings to the table as one of Beck Partners' Sales Associates.  Office: 850-972-0162 [email protected]
---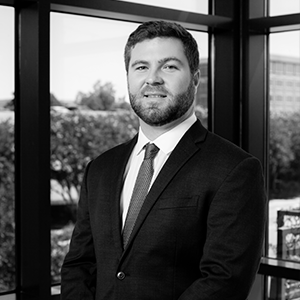 Thomas McVoy has been in the Real Estate Industry since 2015. He sold residential real estate for three years before joining Team Beck. His experience has taught him how to properly deal with people, and he quickly learned that being a realtor means: "You are always working, no matter if it's the weekends or weekdays." His principal focuses in commercial real estate are industrial spaces and office spaces in the Pensacola market.
Prior to Beck, Thomas started his real estate career with Levin Rinke Realty, where he excelled in representing buyers and sellers for luxury properties at one of the top residential brokerages in the Pensacola area. His ability to work with clients on all matters to ensure a smooth transaction did not go unnoticed. Thomas worked diligently to ensure every client was represented to the fullest by guiding and advising them at every turn. The switch to commercial real estate came from successful brokers as mentors and a desire to further his skill set in the real estate industry.  Office: 850-972-0143  [email protected]
---