So, you're looking to find the owner of a multi family property, land parcel, or commercial asset and you don't have the address…
Believe it or not, that shouldn't concern you. With Reonomy and a few other resources, it's actually fairly easy to find the address and owner of a property or land parcel in one fell swoop.
In this article, we're going to show you exactly how to do so.
TABLE OF CONTENTS (Click to Jump to Section)
How to Find Out Who Owns a Property Without an Address
Maybe you were given the wrong address from another resource. Maybe you logged the address incorrectly. Maybe you drove past a building or vacant lot and aren't sure what the address is.
Whatever the case, if you're trying to find out who owns a property without an address, you're likely in one of the following buckets:
You know the street name or corner, but not the building number.
You know the tenant, but not the address.
You're trying to find the address and owner of a vacant lot or land parcel.
With the right tools, finding an owner with or without having a property address takes a similar amount of time, proving just how simple it is.
Despite not having a parcel's address, for example, you can use Reonomy to find owner details and contact information, sales history, debt history, tenant data, and much more on any asset above a single-family home.
Lookup Property Owners on Reonomy
If you have a general idea of where a property lies, then you can very easily find its ownership details and contact information.
In fact, even if you don't have any information and simply want to build a list of entirely new prospects, you can do that as well (more on that later).
Whether you're looking for a multi family property, a rural land parcel, an office building in a dense city, or any other commercial asset in the U.S., it only takes a few minutes to find a property owner and their contact information when using Reonomy.
Without an address, you'll have to start with a general property search.
Finding a Property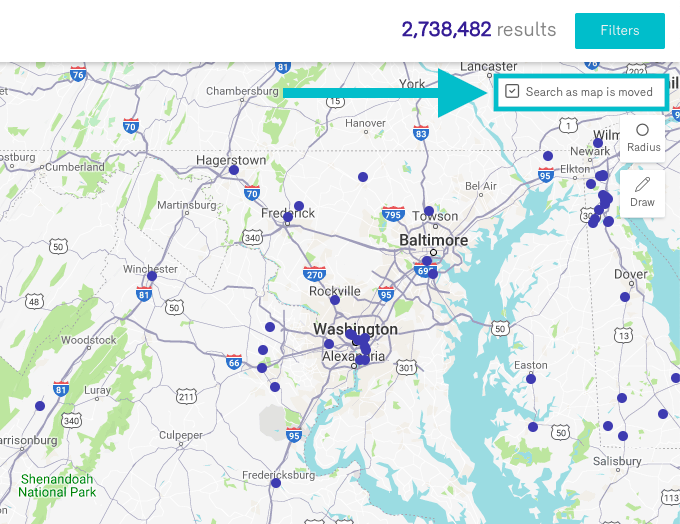 First and foremost, if you know where a property lies, you can simply use Reonomy's integrated map tool to free-roam and literally zoom in on your target property.
All you have to do is click the parcel shape of your target property, then click the address that subsequently pops up.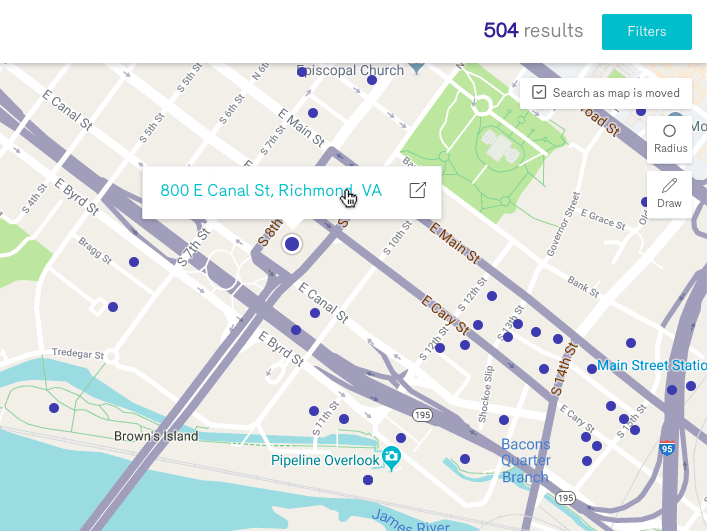 Once you click, you'll be taken to the property profile page, where you can see the address of that property, as well as the parcel's APN, building and lot information, sales history, debt history, owner details and contact information, current tenants, and more.
See if the property is in an Opportunity Zone, who the owner is, if they're likely to sell or refinance, or if they've recently bought a property.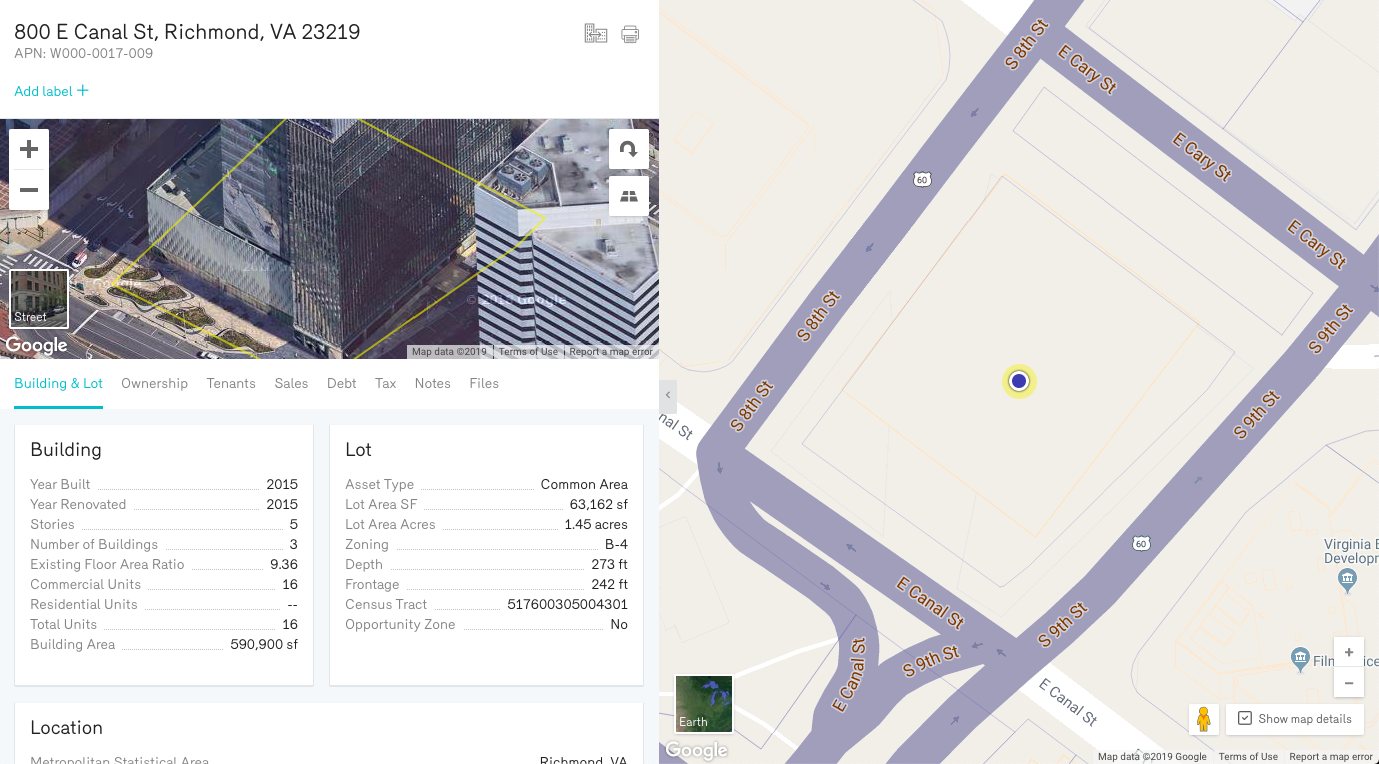 Aside from using the map on its own, there are also a number of granular filters that can help you find property owners without having their address.
Property Owner Lookup by Neighborhood or Street Name
You can begin your search with the geographic specifications that you do know on the parcel.
In the Location tab of Reonomy's search app, you can add separate filters for city, county, zip code, neighborhood, and street name.
This is an easy way to find a property owner of an asset where you know the street, but not the number of the property.
After you've added these filters, you can then either use the map to find an individual property (as shown previously), or continue adding filters in case you're unsure exactly where a property lies.
Here's an example:
Let's say you know of a medical office building on South Blvd in Charlotte, NC, but you're unsure what the number of the building is.
With a quick Reonomy property search, you can first add a location filter for the city of Charlotte, NC, or the MSA of Charlotte-Concord-Gastonia, NC-SC. Then, enter the street name, "South Blvd."
If you'd like, you can then move to the Asset Type tab and add a filter for "Medical Building." That filter is a sub-selection of the "Office" asset class.
It's important to note that this same process can be used to find the owner of multi family properties like apartment buildings, duplexes, student and senior housing, and mobile home parks. It can also be used to find vacant lots and land owners.
To find the address and ownership of a vacant lot, you can follow the same process as above, except when you go to choose your asset type, select from the many land filters in Reonomy.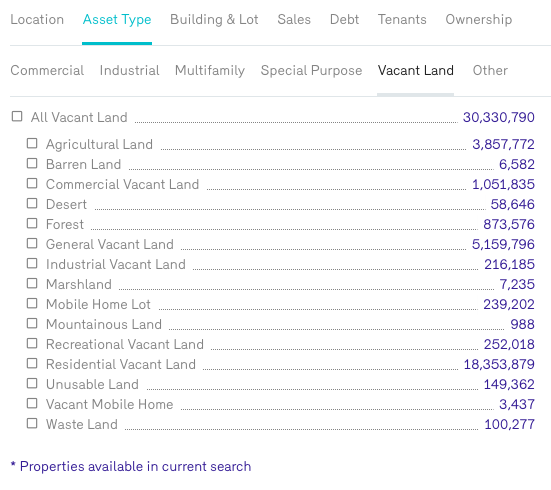 Depending on how many results you're left with after choosing an asset type, you can simply jump to the map and find your target property.
➤ Skip ahead to see how to access owner details and contact info.
Property Owner Lookup by Tenant
As another example, let's say you're trying to find the owner of a retail property, and you don't know the address, but do know who the tenant is.
Another way to find property owners without an address in Reonomy is to search by the tenant name or tenant type.
So this time, say you know of a CVS Pharmacy on South Blvd in Charlotte, and you'd like to contact the owner. After adding your location filters as mentioned above, you can then visit the Tenant tab of the Reonomy search app and enter the name or NAICS/SIC code of your desired tenant.
By entering "CVS" into the "Tenant" search bar you'll only be shown properties that have CVS as a tenant.
With a street name and a tenant inputted, you likely will not generate a huge list of results, and can then begin diving into property ownership.
Accessing Ownership Details
Once you've accessed a property profile page, it is as simple as navigating over to the Ownership tab to see who the reported owner or owning entity is.
Here, you'll see the name of the person(s) or LLC of the recorded owner. You can then pierce the LLC, to see the real people that sit behind it—including principals, owners, and other decision-makers.
Finding Owner Contact Information
Once you've found the owner you're looking for, you can continue through to see property owner contact information. That includes the phone numbers, email, and mailing addresses of the real people that may be behind a property-owning LLC.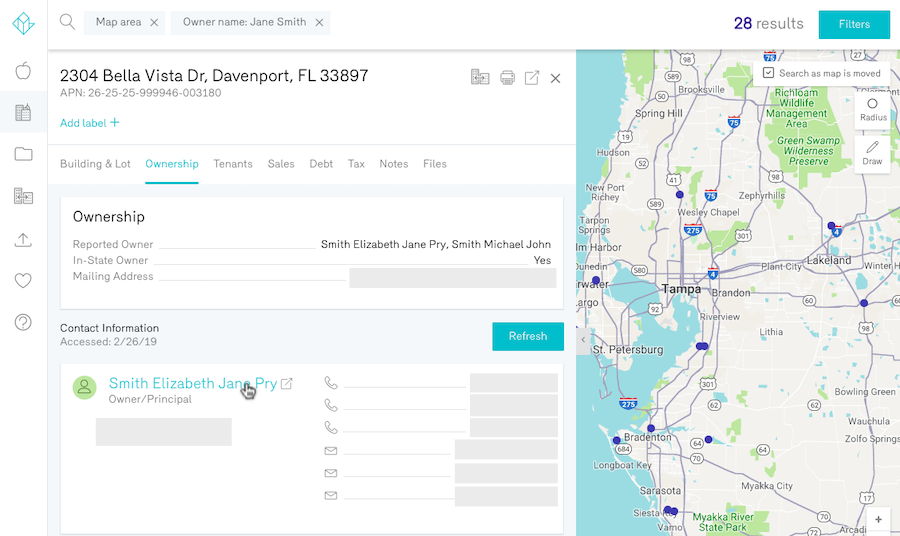 Accessing Full Owner Property Portfolios
If you'd like to take your analysis even further, Reonomy makes it simple to access the full property portfolio of an owner.
You can click on the name of the owner as it appears on the property profile, and you'll be given a list of all of the properties they're associated with as an owner. That includes properties under ownership of an LLC.
This can be done using the name of an individual or LLC, as well. In each case, you'll be given all of the associated owners of each property, letting you see all of the LLC members involved with each individual property.
Building a New List of Property Owners
Everything mentioned above can also be applied to searching for property owners from scratch.
If you're looking to generate leads in a certain location, and of a certain asset class, you can run a Reonomy search to build brand new lists of property, multi family, or land owners.
Using Maps and Public Records to Find Property Owners
While Reonomy lets you carry out the process from start to finish, you can also turn to a compilation of other resources that, when combined, allow you to find out who owns a property or land parcel despite not having its address.
In that case, you'll have to first find the address separately, then turn to other sources for ownership details and contact information.
Finding the Address for Land or Commercial Property
To find the address of a property or land parcel, you can use Google Maps and local GIS mapping tools.
Google Maps
If you know where a property is located, but don't know its address, you can navigate to the location on Google Maps and click the parcel.
Upon clicking, the address of that location will appear on the bottom of the screen.
GIS Mapping Tools
To find the address of a parcel and perhaps gain a few other insights (such as parcel number), you can utilize your local GIS-based mapping tool.
ArcGIS, is an online provider of mapping software, allowing users to customize maps and geographic information. In most U.S. locations, there will be an ArcGIS-built map that can help you view parcels and find addresses.
The Boston Parcel Viewer, for example, allows you to free roam the map and click on parcels to see the Parcel ID, Address, and even the Recorded Owner, as well as lot size, property values, taxes, and more.
The issue with such tools, as you can see in the above screenshot, is that the information being pulled through may not be up-to-date. Despite that, however, mapping tools can still be helpful in giving you more depth than Google Maps.
Search Public Property or Land Records
Once you have the address of your property, you can basically carry out an owner search as you would normally—through public records, with Reonomy, or with any of your other go-to online sources.
With the address, APN, and other pieces of information you picked up from mapping tools, you can search your local property or land records, or visit the county clerk in person to inquire about the property and its related documents.
No matter what your starting point is, you can always access the owner details and contact information of a property when using Reonomy—with or without an address.
Start searching today for free.