Fellah of HK Group finalizes two Main Street Westport leases
WESTPORT, CT – December 3, 2015 – Franco Fellah, Executive Vice President at HK Group, has finalized two Main Street Westport retail leases.
Matt Bernson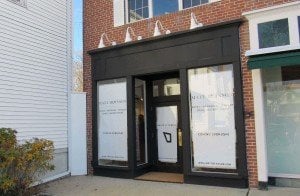 Matt Bernson, a women shoe and accessories designer from New York City, has leased 1,000 SF of space at 136 Main Street, Brooks Corner, next to Williams Sonoma, Brooks Brothers and Lux, Bond & Green Jewelers.
A number of celebrities shop for footwear, leather goods and jewelry at Bernson's Tribeca boutique, as featured on his web site. Store opening is during the first week of December.
Shoe-Inn
Shoe-Inn, a woman's designer shoe store will double it space moving from 38 Main Street, where it rented 1,200 SF of space since 1973, to 21 Main Street, where it leased 2,355 SF of space previously occupied by Henry Lehr. The store is located directly between Ann Taylor Loft and Pottery Barn.
Shoe-Inn operates seven ladies shoes and accessories stores in Westport, CT, East Hampton, West Hampton Beach, and Rye Brook, NY, Livingston, Englewood and Ridgewood, NJ. The new Westport store will open in February 2016.
Westport Main Street is one of the most desirable shopping streets in Connecticut and the East Coast, with its interesting mix of national and regional retailers.
Fellah of HK Group was the only broker in both transactions.
HK Group is a full service commercial real estate firm started in 1988. It has grown steadily from a local Westport business to one which today encompasses an operating area of New York, Connecticut and New Jersey. The firm follows client led transactions into other states. It has expanded its vision from local leasing to larger and more sophisticated leasing transactions, investment sales transactions, national client retail leasing, and consulting and brokerage services for the health care and hospitality industries. For more information, please visit their website at www.hkgrp.com.