This post originally appeared on Beck Partners' Blog and is republished with permission. Find out how to syndicate your content with theBrokerList.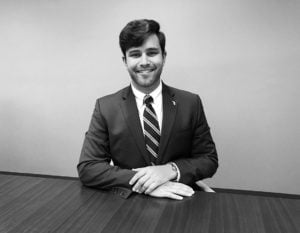 Fletcher Dilmore, a recent Florida State University graduate, has joined our team as a Sales Associate in the Tallahassee office. His focus lies with furthering the expansion in Tallahassee with his extensive knowledge of the area.
"I wanted to surround myself with passionate professionals that shared my enthusiasm for the industry and the area. That is exactly what I received by joining Beck Partners. The entrepreneurial mindset, unique culture, dedicated sales coach and training opportunities were just a few deciding factors" states Fletcher Dilmore, Sales Associate at Beck Partners.
Fletcher Dilmore graduated with a Bachelor's of Science in Finance and Real Estate. This Chipley, Florida native gained experience in retail leasing through Crossman & Company in a project oriented internship. His involvement and leadership in the community has been showcased through advocacy on Capitol Hill, leadership positions in FSU's Real Estate Society and the FSU College Republican Club.
Fletcher enjoys chasing his personal best records in the gym, further developing his internet podcast show and passionately cheering on his Seminoles on the gridiron, court and baseball diamond.
"Our team is elated to have Fletcher join us to push our initiatives further in the Gulf Coast. Fletcher has already proven to be an agile and fearless addition to the team, ready to take on all that Tallahassee has to offer. We are expecting to see even more driven professionals from the exceptional colleges and universities of the area to equip our office with the best team members that can move our company further" states Justin Beck, CEO of Beck Partners.
With our dedicated Sales Director, the new Sales Associate will be guided through industry best practices, sales training and mentorship through the entire real estate process. It is important to have the right training and coaching for real estate professionals to ensure clients receive the best advice for their businesses and investments. This furthers development in the region and provides trusted resources to the community.
Fletcher has hit the ground running and has already proven to be a valuable member to the team with his go-getter attitude, positivity and thirst for knowledge. His influence in the community and Tallahassee pride drives our team further in the region.