CompStak is a free resource for brokers,
appraisers, and researchers to access
thousands of office, industrial, and retail lease comps.
What is CompStak?
CompStak is a comp trading platform that operates on a one for one model: if you give a lease comp, you can get a lease comp. CompStak makes information sharing and comp trading easy.
Thousands of brokers, appraisers, and researchers share the lease comps they have to get the lease comps they need. It's 100% free and 100% anonymous.

The Sharing Effect
CompStak members come from every major brokerage and appraisal firm in each market. The data they share every day creates a more accurate picture of the market. In the past two years, CompStak users have shared lease comps amounting to over 1 billion sqft nationwide.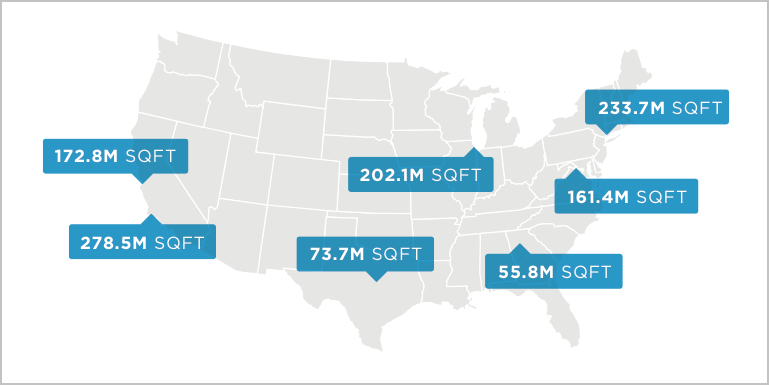 How is CompStak doing? Within one year of launching in Manhattan, we collected 99% of that year's office deals. And we've replicated that in major markets across the United States. By sharing data with CompStak, you get access to the largest community-driven database in the world. Say goodbye to scrambling for comps.
How CompStak Works
Frequently Asked Questions
How much does this cost?
CompStak is 100% free and it always will be. You simply share the comps you have to get the comps you need.
What about confidentiality?
CompStak is anonymous, but please only share the deals that you are comfortable sharing.
Do I have to share my own deals?
No. In fact, many members share the lease comps that have been shared with them.
How do I know that the data is accurate?
• We receive each comp from seven different members on average, enabling us to confirm the validity of our data again and again.
• We limit membership to brokers, appraisers, and researchers from the most reputable firms, and track members' trustworthiness by the quality of the data that they submit over time.
• Our in-house research team reviews every comp submitted. We employ machine learning algorithms to detect suspicious comps before they reach you.

What's Next?
(don't worry, we'll take anything from PDFs to Excel sheets to napkins)
Create a CompStak Team – Email us at [email protected]
(Link the CompStak accounts of an entire office to share data and credits)